A New Honda Civic for 2022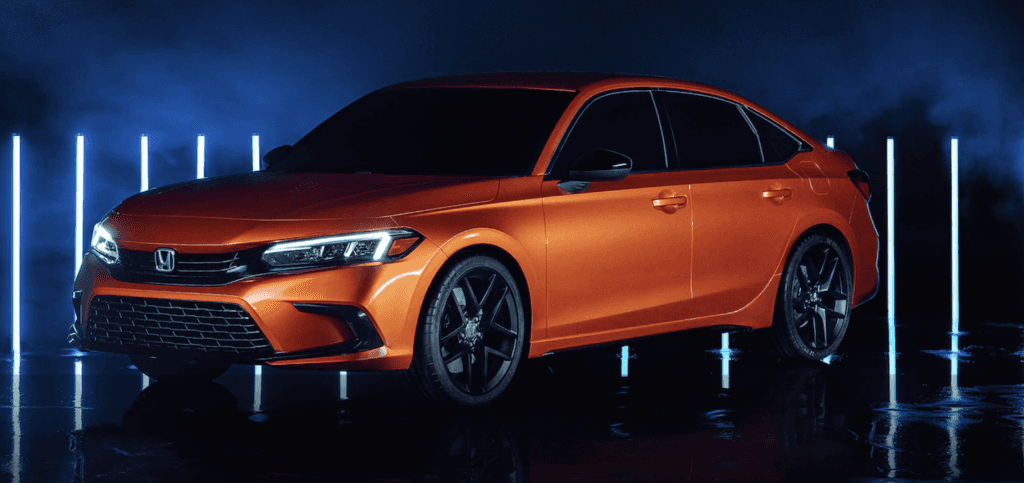 If you haven't heard about the 2022 Honda Civic redesign, get ready to be excited. Changing a highly popular compact sedan is a tall order, but the new Honda Civic 2022 redesign promises to push this vehicle to new heights, evolving its style profile and boosting its efficiency. Airport Marina Honda has previewed the prototype of the 2022 Honda Civic, and we tell the tale to Culver City and Westchester drivers below!
New Honda Civic 2022 Exterior Design
When you look at the prototype for the 2022 Honda Civic, you'll be struck by the simplicity and elegance of its new design. The exterior is less curvy and more functional. Options for a hatchback, one of the most successful variations of the Civic, will likely be available. While these elements can be found on the prototype, it is still unknown whether they will be incorporated into the production model.
Solar Flare Pearl paint
Black mirrors
Black pillars
Black trim
Dual oval exhaust tips
10-spoke matte black 19-inch wheels
New Honda Civic 2022 Engines
There isn't a lot of new information about the engine on the 2022 Honda Civic, but Honda has promised a more powerful and efficient engine than the ones already offered. That means Torrance drivers should expect, at the minimum, a 174-hp turbocharged engine or an even better 180-hp engine on the hatchback. Stay in touch with Airport Marina Honda for the latest information on the new Honda Civic 2022 engine options!
2022 Honda Civic Redesign: Interior
The details Honda has announced on the 2022 Honda Civic design for the interior are very exciting. You'll find the Civic's first all-digital instrument cluster, a touchscreen that rivals what's offered on luxury cars, and many more exciting features to come. Here are some of the best ones we know about so far:
9-inch touchscreen
Fully digital gauge cluster
Wireless Apple Carplay® and Android Auto®
More airbags
Get 2022 Honda Civic Information with Airport Marina Honda!
We're beyond stoked to get the 2022 Honda Civic at Airport Marina Honda for Los Angeles drivers. It's always exciting to see a new design, but the updates to a popular and reliable car like the Civic seem especially exciting. Our finance center stands at the ready to help you set up a payment plan. Check out the 2022 Honda Civic MPG and seriously consider all of the fuel savings you'll rack up. Contact us and keep in touch to learn more about the 2022 Honda Civic, coming soon!